INTRODUCTION
Life is a gift from God. God created man in the image and likeness of God. Unlike all other creations, God in addition to the human body also gave him a reasonable, sensible soul. Thus, man is a being – a person who cannot be seen separately, but only as a mutually, inseparable and unique assembly of the soul and the body. Therefore, we must pay attention to both the soul and the body at the same time.
Our birth and coming to earth is according to God's providence. We are not born by chance, but to live a life in spiritual abundance, to be joyful and good. And so by living, let us achieve the ultimate goal – to return to the Creator, to renew the communion with God, that is, to achieve the Kingdom of Heaven.
During our lives, we cannot choose many things, and having no choice we will have to accept them as they are, regardless of whether it is our will or not, and while struggling with the temptations to remain with good thought and will. For example, we cannot choose whether it will be day or night. We cannot choose, by our will whether it is raining or sunny and many other things. We are also not asked if we want to be sick or not, simply against our will, the disease will come into our lives. But we must go through the historical time that God gives us, even if we are sick, with a living faith and a sure hope to pray, and if God blesses us, by His great mercy we can be saved from the disease.
HOLY FATHERS ABOUT THE PRAYER
Prayer is a conversation with God. Even if we speak in a quiet voice, even if we whisper, without opening our lips, even if we call on Him only from the depths of our heart, our unspoken word always reaches God and God always hears it.
St. Clement of Alexandria
Prayer is the uplifting of the mind to God… Just as bread is food for the body and virtue food for the soul, thus the mind's food is spiritual prayer.
St. Nilus of Sinai
When you get up in the morning and offer the morning prayers, stand in your heart before God as unwaveringly as possible, and then do the work that God has given you, without turning away from Him in your feelings and consciousness. When you pray, try to make the prayer reach your heart. In other words, it is necessary for the heart to feel what you say in your prayer, to desire the blessing you seek… Observe, during prayer, whether your heart is in harmony with what you are saying.
St. John the Baptist
God does not listen to our voice but to our heart. He should not be pestered by our voices, for He sees our thoughts.
St. Cyprian of Carthage
We should pray with repentance, with tears, with respect, with serenity and great calm. Our sins should not prevent us from praying. We should be ashamed of our sins, but they should not stop us from praying. Even though you are a sinner, approach God with prayer so that you can be reconciled with Him; give Him the opportunity to forgive your sins, and He will forgive you to show His love for mankind.
St. John Chrysostom
Just as every virtue has a corresponding result, so also prayer has as a result the purification of the mind and enlightenment… With prayer, divine grace becomes active and provides solutions to the problems and trials that afflict the faithful.
Elder Joseph of Vatopaidi
Force is not the way to acquire prayer…Pray… without ulterior motives, not in order to gain anything. Make prostrations out of love… There is no point in making a thousand of prostrations if they leave you unmoved. You have to do it out of love for the Lord, and if God wants to put you in hell, let him do what he wants. That means selflessness.
Elder Porphyrios of Kevsokalyvia
Remember that while praying, God expects a positive answer from You to His question: "Do you believe that I can fulfill your prayer?" You must be able to answer from the bottom of your heart, "Yes, I believe, God," and then you will be obeyed according to your faith.
St. John of Kronstadt
It is good to pray always and not to fall spiritually, as the Lord says, and again the apostle says: "Pray constantly," which means night and day and every hour and not only when you come to church, and the rest of the time not to worry about prayer. Whether you are working, lying down to sleep, traveling, eating, drinking, sitting at a table, do not interrupt your prayer, because you do not know when the One who will ask for your soul will come. Do not wait until Sunday or a feast day or any other place, but pray to Him, as the prophet David says," in every place of His dominion."
St. Ephrem the Syrian
The prayer is the key to spiritual life. Its sole teacher is God's grace. If I tell you that honey is sweet, liquid, like this or that, you won't understand if you don't taste it. The same is true of prayer. If, for example, I tell you "you feel this way and that way, you feel this and that," etc., you will not understand, nor will you know how to pray, "except by the Holy Spirit" (1 Cor. 12: 3).
Elder Porphyrios of Kevsokalyvia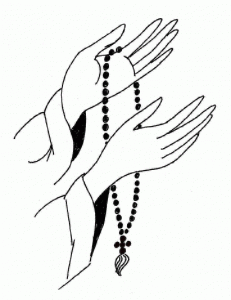 PRAYER BOOK
at the time of illness
The Trisagion Prayers
(Morning Prayer to the Most Holy Trinity)
In the name of the Father, and of the Son and of the Holy Spirit. Amen.
Glory to You, O Lord, glory to You.
O Heavenly King, O Comforter, the Spirit of Truth, Who are in all places and fill all things, the Treasury of good things and the Giver of life: Come and abide in us, cleanse us from every stain, and save our souls, O Good one!
Holy God, Holy Mighty, Holy Immortal, have mercy on us! (3 times).
Glory to the Father, and to the Son, and to the Holy Spirit, now and ever, and unto ages of ages. Amen!
O Most Holy Trinity, have mercy on us. O Lord, cleanse us from our sins. O Master, pardon our transgressions. O Holy, visit and heal our infirmities, for Your name's sake.
Lord, have mercy! (3 times).
Glory to the Father, and to the Son, and to the Holy Spirit, now and ever, and unto ages of ages. Amen!
Our Father, Who art in heaven, hallowed by Thy Name. Thy kingdom come. Thy will be done on earth as it is in heaven. Give us this day our daily bread; and forgive us our sins, as we forgive those who sin against us; and lead us not into temptation, but deliver us from evil one. Amen!
Psalm 23
The Lord is our Shepherd. The Lord is the good Shepherd.
The Lord is my Shepherd, I shall not want anything, He makes me to lie down in green pastures; He leads me beside the still waters, He restores my soul, He leads me in the paths of righteousness for His name's sake.
Though I walk through the valley of the shadow of death, I will fear no evil, for You are with me, Your rod and Your staff, they comfort me.
You prepare a table before me in the presence of my enemies; You anoint my head with oil, Your cup runs over.
Surely goodness and mercy shall follow me all the days of my life;
and I will dwell in the house of the Lord to the end for my days.
Psalm 30
A prayer of thanksgiving for salvation from death
I will exalt you, O Lord, for You lifted me up and did not let my enemies rejoice over me.
O Lord, my God, I cry to You, and You will heal me.
O Lord, You brought my soul out of Hades; You saved me from those who go down to the pit.
Sing praises to the Lord, your saints of His, and give thanks at the remembrance of His holiness: for there is wrath in His anger, but life in his will.
Weeping will lodge at evening, but great joy in the morning.
As for me, I said in my prosperity, "I shall not be shaken forever."
O Lord, in Your will, grant beauty and power, You turned away Your face, and I was troubled.
I shall cry to You, O Lord, and to God I shall make supplication. What profit is there in my blood, when I go down into decay?
Will the dust confess You, or will it declare Your truth?
The Lord heard, and had mercy on me, and the Lord became my helper.
You turned my lamentation into dancing for me, You tore up my sackcloth and clothed me with gladness, that my glory may sing praise to You, and not be pierced with sadness; O Lord my God, I shall give thanks to You forever.
Prayer for the sick
Merciful Lord Jesus Christ, visit us in our time of need and affliction and as you healed Jairus' daughter and raised her from her bed of infirmity, visit your servant (name), Master and deliver him/her from sickness and pain.
For You alone have borne the sickness and affliction of our world, and with You nothing is impossible. For You are all-merciful and to you we ascribe glory and adoration now and forever and ever. Amen!
Prayer of the sick for healing
Heavenly Father, physician of our souls and bodies, Who have sent Your only-begotten Son and our Lord Jesus Christ and through Him to heal every sickness and infirmity and save us from death. Heal me, Your servant, from all affliction, and restore my health through the grace of Your Divine Son, after the prayers of our Most Holy and Virgin Mary, the Mother of God, and all the saints. For You are the Source of healing, Lord, and we thank You, the Father, the Son, and the Holy Spirit, now and always and forever and ever. Amen!
Lord, at this moment, I pray that You will hear me and give heed to the voice of my supplication. Stretch forth your hand, touch me and heal me of my infirmity. Grant that I may understand the nature of my illness and sustain me as I deal with its effects upon my life. Strengthen me, O Lord, as I perceive my affliction, not as an overwhelming obstacle, but rather, as a challenge to be met and overcome. Holy Father who in your infinite love created us in Your image and likeness; Who formed my body out of the earth and breathed into it Your divine and life-giving breath; do You, Yourself, O Lord, look with mercy upon me, Your child and heal my spirit and body. Help me to endure the tribulations of my infirmity and keep my soul safe through all that has happened and will happen. Yes, Lord, I know that You are omnipresent, long in patience, great in mercy and compassion. Receive my prayer at this present time and direct my life according to your commandments. Sanctify my soul. Cleanse my body and set my mind alright. Deliver me from sorrow, evil, and distress. Surround me with Your holy angels, that guarded and guided by them, I may overcome this adversity. Amen!
Lord Jesus Christ, I want to get better. You take away our diseases. Take all my strength in Your hand and heal me. You are peace, and I am restless and afraid. You have taken away my sins. Come and give me your peace. From the depths of my soul I call on You, Lord, hear my voice and help me, for I call from trouble and fear. I pray for Your closeness and help. Please perform miracles on my body and soul and heal them. I do not know Your thoughts, I do not know why I am sick, I am just convinced that it is Your will. I was healthy and relied on my strength. Now others care about me. It is Your will and I would like to know it. I lived among the healthy and did not notice the sick. Now I see many sufferers around me, give me compassionate eyes for all who suffer with me. I thought my life would go on indefinitely, but this hour is nearing my end. Prepare me for the hour of my death. I always worked and never had time. Now my time is running out. In all this I see Your will. I left behind a lot of clutter, a lot of quarrels, a lot of rudeness and cruelty of heart. Forgive me my debt and give me time to forgive everyone. Heal me, Lord of body and soul, and give me to begin again healthy, on this earth, or, if Thy will be done, in eternal life. I surrender to Your will. I want to find You, to have You, to thank You and to glorify You now and always and forever. Amen!
Prayer for patience
Lord, my bodily strength is broken. Please, have mercy on me, so that my spirit does not weaken. Often the physical illness is a health for the soul because when we are sick, we get to know our spiritual condition better, we learn to endure and remember that everything that is earthly is transient and insignificant in itself, and above all is Your holy will. I beseech Thee, O Lord, and Father in heaven, as You were with me when I was healthy and joyful, so be with me now that I am sick and sorrowful. Comfort me, strengthen me, give me strength so that I can please You and be saved. Help me, to endure all hardships patiently. Let this disease lead me to realize that not only when I am healthy, but also when I am sick and when I suffer, I should not make You sad, but love You. Therefore, God, I pray to You again, support me to be patient, to live with You, and to truly rejoice in the gift of life, and now when I am sick, this disease to serve me to gain chastity and eternal life. Amen!
Prayer before surgery
Heavenly Father, Creator and Comforter, Who created me in Your image and likeness, You know every fiber of my being and have willed that I be born. I ask you, Lord, to guide the minds and hands of those who will operate on me, so that I may be restored to health and well-being.
Help me, Lord, to pray with all my heart and allow my burden of concern and anxiety and that of my family, to be lifted up with the knowledge that You are with us, now and always. And Lord, when I awake from surgery, take me by Your hand and guide me towards a life of thanksgiving and peace. Amen!
Prayer after surgery
O Compassionate Lord, I offer thanksgiving to You because You have aided and guided my doctor and those who assisted in my surgery and eventual healing. Like the woman who touched the fringe of Your garment (Luke 8: 40-56), I too have been freed from the anxiety and isolation of my illness. Like her, I rejoice in the prospect of returning to my home, my family and friends. I look forward to all that Your Holy blessing has to offer and when I leave this bed, may I go out as a more compassionate person. Yes, bless me O Lord, with the loving-kindness which You so abundantly extended to me so that I may continuously bear witness to your healing Grace. May Your Holy Name be glorified now and forever. Amen!
Prayer for doctors and medical staff
Lord Jesus Christ, our God, philanthropist, the doctor of our souls and bodies, that has endured the pain of our weaknesses and with whose wounds we have been healed; Who gave the blind man to see; Who corrected the woman who had been hunched over for 18 years; Who restored the speech and vision of the mute demon-possessed; Who not only forgave the sins of the paralyzed, but healed him and began to walk; Who made healthy the hand of the unfortunate man; Who stopped the bleeding of the one who had been bleeding for 12 years; Who resurrected the daughter of Jairus and brought the four-day dead Lazarus back to life; Who heals all powerlessness under the sun: Lord, grant Your grace to all those who have gathered and who have worked and studied hour by hour, to go all over the world and heal with the talent You have given to each of them. Strengthen them with Your power, so that they may not fear any evil or disease. Enlighten them to do good with the works of their hands, and save them and those who they serve in peace, for You are our God and we do not know about another god, and we offer You glory, with Your eternal Father and Your most holy, good, and life-giving Spirit, now and always and to the ages of ages. Amen!

EXPLANATION OF DISEASE ACCORDING TO THE HOLY FATHERS OF CHURCH
St. Basil the Great says: "There are diseases which are of a bodily nature, and require medical skill; there are diseases as punishment for sin, and patience and repentance are required. There are diseases that are given for patience but also to overthrow of the power of evil, as in the case of Job, and diseases that are an example for the impatient, as in Lazarus. Diseases and saints suffer, showing everyone the humility and limitations of human nature, which is common to all. "
"Sickness is sent to purify oneself from sin, and sometimes to appease self-emphasis." (Venerable John of the Ladder)
"The cause of sickness is sin, one's own will, and not some necessity." (Venerable Ephraim the Syrian)
From the point of view of the teaching of the Holy Fathers, the sick man is less sinful, he thinks soberly about the meaning of life, as St. Ignatius of Brianchaninov said: "The hospital bed often becomes a place of Knowledge of God."
The courageous endurance of sickness forms in man qualities such as patience, perseverance, endurance, and some other virtues. There are other important reasons why diseases should not be seen only through the prism of suffering and immense misery. The Аscetics of holiness believed that a proper understanding and attitude towards the disease could bring great benefit to the soul.
An example that shows a Christian attitude toward illness can be found in the excerpt from the thinking of St. Gregory the Theologian: I suffer from illness and I'm physically weak. Some conceited people may mock my sufferings. My limbs are weakened and my legs are unsteady. I don't know if it's a consequence of abstinence, or a consequence of sin, or some kind of struggle. Anyway, I thank to my Lord! It could be even better for me. But heal the disease, heal it with Your word, Your word for me is salvation! And if you don't heal it, give me patience to endure everything. "
Elsewhere, the same father St. Gregory says: "The diseases of my soul serve as a kind of purification, and everyone needs purification, no matter how strong." The same is said by the monk Macarius: "Body diseases cleanse the soul."
The Holy Bishop and Surgeon Luke Voyno – Yasenetsky says: "It is known from the lives of many saints that long and exhausting illnesses were more helpful to them, because they calmed their passions, deprived them of the impressions of worldly life with its congestion and noise, which distracts from deepening into the hiding places of the spirit. "
"We have a great benefit from diseases, only to endure them without resentment and to glorify God, seeking His mercy," said the holy Elder Porphyrios, who himself had long suffered from severe physical illnesses.
Recently, official medicine has in some cases confirmed the Church's concept of the usefulness of the disease, and its practical use began a long time ago – for example, with vaccination, which is often thought to be nothing but an artificially induced disease of lesser intensity to prevent a more serious and dangerous disease.
There is also the view that certain diseases can be considered a restarting and cleansing crisis, such as colds and flu. The positive side of the diseases can be assessed by the fact that the body after the overcoming of certain diseases forms more or less permanent defensive immunity.
We will ask ourselves: Are all diseases due to sins? Not all of them, but most of them. Some are caused by carelessness. According to St. John Chrysostom, stomach-pleasing, drunkenness and unemployment also cause illness. But he tells that diseases also happen to test us in the good.
The same Father in case of illness advises us: "If during the physical weakness we do not use the help of fasting, and we show even greater neglect, we will cause ourselves the greatest harm." The same is said differently by St. Tikhon of Zadonsk: "The disease worsens due to impatience."
Can we get medical treatment and receive medication?
The holy ascetic Nilus of Mount Sinai says: "In diseases – before doctors and medicines, use prayer."
But it is not wrong to seek medical advice and receive prescribed medication because everything is from the Lord, as well as the medicines and the gift that the doctors receive.
"Why not treat ourselves? God created both doctors and medicines. Did he create them in vain? No, but to cure diseases; Avoiding doctors and medicines is a rebuke to God", says St. Theophanes the Confessor.
Saint Ambrose of Optina also says similarly: "It is not a sin for a man to resort to the means of treatment, but in that the patient puts all his hope of recovery only in doctors and medicines, forgetting that everything depends on the all-powerful and almighty God, Who gives or only he takes life. "
Concerning the various spiritual causes of sickness, the sick and the healthy can turn to God in various ways. The Church, praying during the services and in the prayers for the healing of the sick, considers that the act of faith and love for one's neighbour fulfills what God wants, even to him, because of the faith and compassion of those who brought the paralyzed man, gives him healing. St. John of Kronstadt testify: Since God is life, and diseases and weaknesses are moving away from life, it is enough for the original primary Life to touch us and to heal.

SEVERAL LORD'S HEALINGS OF DISEASES IN THE SCRIPTURES OF THE NEW TESTAMENT
Our Savior Jesus Christ, Who came to heal the human race and resolve the pain of death, in the Gospel, as a doctor of souls and bodies heals various diseases. In doing so, he asked those who approached him for their faith so that God could act with healing power.
In the Gospel according to Matthew (Matt. 8: 2-3), Christ heals the leper who prayed to Him: "Lord, if You are willing, You can make me clean." In the same Gospel (Matthew 9: 27-31), Jesus, when two blind men followed Him, crying out and saying, "Son of David, have mercy on us, said to them, "Do you believe that I am able to do this?" So when they answered him, "Yes, Lord, He touched their eyes saying, "According to your faith let it be to you." And their eyes were opened and they saw.
The Gospel according to Luke (Luke 8: 43-48) testifies to the faith of the woman having a flow of blood for twelve years, who , although ill for 12 years, did not lose her faith and hope in God, but when she saw Jesus, she approached Him from behind and touched the hem of His garment, and she said to herself, "If only I may touch His garment I shall be made well" (Matt. 9:21). And immediately her flow of blood stopped, and Jesus turned around and, wanting to proclaim her faith, said, "Somebody touched Me, for I perceived power going out from Me." After the public confession of the woman, she declared to Him in the presence of all the people the reason she had touched Him and how she was healed immediately, Jesus said to her, "Daughter be of good cheer, your faith has made you well. Go in peace!"
In the 15th chapter of the Gospel according to Matthew (Matt. 15: 22-28), a woman of Canaan came from that region and cried out to Him to heal her daughter, saying: "Have mercy on me, O Lord, Son of David! My daughter is severely demon-possessed." But He answered her not a word. And His disciples came and urged Him saying: "end her away, for she cries out after us." And he answered and said, "I was not sent except to the lost sheep of the house of Israel." Then she approached him, she bowed down to him and said, "Lord, help me!" But He answered and said, "It is not good to take the children's bread, and throw it to the little dogs. And she said, "Yes, Lord, yet even the little dogs eat the crumbs which fall from their masters' table. Then Jesus answered and said to her, "O woman, great is your faith! Let it be to you as you desire." And her daughter was healed from that very hour.
God allows diseases for a saving purpose. Sometimes He leaves them for a long time to examine our faith, how strong, steadfast and unwavering it is. Therefore, bearing in mind the Gospel events, let us not be discouraged at any moment, but let us pray more earnestly to Him, and He wisely knows when it is useful for our souls to be healed. The example of the woman of Canaan, especially encourages us to be firm and with unshakable hope, if we are not healed in the same hour, without giving up or falling in spirit, praying earnestly and hoping for God's mercy. For it is clearly shown that God cares for everyone and loves us all unconditionally, so He would certainly not leave our prayers unanswered.
In the Gospel of John (John 9: 1-7), there is a different case. It testifies about the healing of a man who was blind from birth, who sat and begged on the streets. On that occasion, the disciples asked Christ: "Rabbi, who sinned, this man or his parents, that he was born blind?". Jesus answered, "Neither this man, nor his parents sinned, but that the works of God should be revealed in him. And when he had said these things, He spat on the ground, and made clay with the saliva, and He anointed the eyes of the blind man with the clay. And He said to him, "Go, wash in the pool of Siloam", which is mean "Sent". So, he went and washed himself, and came seeing.
With opening the eyes of the blind from birth, God explains to us that not every disease is due to our own or our parents' sins, but that the disease is allowed to glorify the power of God, and through the miraculous healing of the seriously ill, not only themselves but also the people around them to believe and know the Lord. When opening the eyes of the blind, God wanted to open the closed eyes of the heart, that is, to heal the spiritual blindness of the people around him. So it is the same when a sick person for whom the doctors have given up, miraculously heals. It does for the rest of us, physically healthy, but spiritually ill, and blind, to open our spiritual eyes and believe in the salvation of the soul and the body.

A FEW TESTIMONIES OF MIRACULOUS DIVINE VISITS OVER THE SICK AND HEALINGS OF DISEASES IN OUR TIME
* * *
Today would have been a normal day. And much better than the previous ones. Things were going well today, we had a lot of plans for the holidays. Until the phone rang. Cancer. He just said that. He had cried shortly before that, I'm not sure. "I have cancer, Costa," he told me. Cancer has a "tradition" in our family. Three years ago, my father was struck by this love of God. He died on October 14, 2005, in "St. Sava", on the day of the Protection of the Mother of God. We glorified God on that day and thanked our Most Holy One who took him on her day. All these things sound "crazy"… Do you glorify God because He took your father?! Yes! My father was an unbeliever. He went through occupations, wars, tortures in refugee homes, persecution on the island of St. Eustratius, attacks, gave up the shipping trade due to many worries and worked in construction and worked for 50 years. He was called ungodly, but he was simply unreligious. He said he was ungodly and giggled… Until the day he touched the Lord's wounds. Until the hour when that denier of the Supernatural saw the presence of the Lord. I remember taking him to the hospital by force. It didn't take long for the doctor to tell me. Cancer, he said simply. My father smiled and nervously hit the newspaper – he always bought it early, in case it was sold out there was none left. Cancer lasted for 4 years.
My father met Christ through a miracle. We went to the temple of St. Parthenius (healer of cancer patients) and tried to light the icon lamp of the saint. The icon lamp did not light. He thought of going to the vehicle to get another lighter. He had just turned his back on the icon lamp, a one-meter-high flame came out of the icon lamp. My father was speechless, and we all saw what had happened. He said nothing. But he was ready. He asked for forgiveness from Christ. He received it in his heart. He believed in God. In the last days he has spoken to us holy words, without a clue about the holy fathers. My father passed away and is in the paradise of Christ. I know that. I can't show you. But I know that. On the day he left for Christ, our Most Holy Mother of God celebrated. Symbolism? For some naive like me – Yes. I remember in the next room another brother passed away. His wife hated the Most Holy Mother of God for taking her husband. We celebrated in the other room. Someone left this vain world and went to his true homeland.
* * *
Greg Thomas, 57, has been diagnosed with advanced head and neck cancer, which are in an advanced stage 4. "The doctors couldn't tell me how long I would live, they just told my family to prepare for my funeral." said Greg.
To enjoy life as much as possible, Greg went for long walks with his dog through the village road in Minnesota. On one of those walks, he saw a beautiful but ruined church next to the road. He decided that while he was still alive to paint it, to be as beautiful and white as before. The church was slowly regaining its luster, and at one of the last check-ups, the doctors told him in astonishment that cancer seemed to be receding.
Greg believes that the church has healed him and announced that he will continue its restoration, first the roof, and then the interior.
* * *
A man suffered from eczema for 25 years. He passed through all the doctors without finding a cure. It had spread to his hands, face, head, everywhere. It looked bad. His wife, as soon as she learned that I had returned from Greece, came to Politeia where I live, to find out something about the saint St. Nectarios of Aegina. She prayed with faith. Returning to her home, a doctor came to her husband and he recovered. We were amazed. How come such a doctor has not been found for so many years? We realized this in response to my friend's prayer.
K.P., February 22, 1968, Australia
* * *
Man before death – saved himself!
I live in South Africa. My birthplace is Heraklion in Crete and my husband is from Rethymno. My husband was suffering from advanced vein inflammation and surgery was scheduled for both legs.
In December 1965 he developed a serious lung disease. Perhaps the cause of the illness was his work as a chemist.
Since then, he has been constantly under the supervision of top doctors. There was regular counseling, due to the seriousness and rarity of the condition, without being able to improve or define the condition. He regularly took oxygen and eight types of pills that he took four times a day. His heart was also damaged by poor blood circulation. On Sunday, October 1, 1967, he began to spit blood. We called the family doctor and he ordered us to take him to the clinic. The pain became unbearable, especially in the ribs, and the bleeding did not stop. At the clinic we waited for Dr. Botulas (cardiologist – pathologist). Immediately X-rays of his heart were taken, the doctor conducted intensive air tests, and said that he was suffering from a lung blockage and that his condition was critical.
This doctor-professor constantly monitored his condition for three days. On Thursday, he left for Durban for a 7-day medical seminar. This was followed by visits from Professor Fuller, a specialist surgeon-cardiologist and expert in thoracic diseases. Blood tests were performed at the State Laboratory and by private microbiologists.
Eleven days passed in a great struggle, when Dr. Botulas returned and examined him. Little hope for life. On October 12, he let out a dying sigh, and he got an almost corpse-coloured face and hands. I was not shaken at all before that tragic sight. Some divine power supported me. From the dresser I took the two bottles of holy oil and two icons, from the Most Holy Mother of God Tinoska, and from Saint Nectarios. I smeared his lips while his mouth was open. I crossed him and at the same time prayed with tears. The doctor came, examined him, and looked at me sadly.
I also called a priest to give him communion. In the afternoon, Dr. Botulas literally said to me, "Ma'am, I'm very sorry, but your husband will live another half hour." "We would be happy if he lived for a maximum of three hours."
Then I told him: "Tell me, finally, doctor. What's up? Cancer, internal bleeding, leukemia, tuberculosis? "And he replied," All this. His heart is enlarged and it cannot gather again. His lungs are both rotten. "Only a miracle can save him."
Then I said to him, "Do you believe, Doctor, in miracles?" And he replied, "Of course. All scientists believe in miracles. When we and science cannot save him with all its available means, then we leave it to the Divine power. "
Half an hour, three hours and all night passed with my heartfelt prayers. In the morning, what a miracle, my husband opened his eyes and ate his breakfast.
My husband is the grandson of the nun Maria, who was a painter in the time of St. Nectarios, in his monastery. We all wear badges with his face. From October 12, when he was transferred to Johannesburg Hospital, to be examined by other doctors, I took with me all the X-rays and medical opinions. Also Dr. Botula's recommended letter to his colleagues, which I read out of curiosity. He wrote to make a slow preparation. Here, the dead are placed in refrigerators until the day of burial. You understand my sorrow at every moment, every day. But I did not lose hope. Some force pushed me to pray with piety and faith.
Two weeks passed like that in hospital. In the third week, a colleague of mine brought me a book about St. Nectarios. I read it with tears at night and during the day I retold the miracles to my husband, who was obviously following me and understanding me.
On the third day after the narration, he told me to bring him the book to read. I literally got lost. His condition changed dramatically after he told me he had promised gold for St. Nectarios. I told him that I had promised the same.
The very next day, professors, doctors, paramedics and others were very accelerated. Five X-rays were taken daily. Advice followed. New lungs have appeared! His breathing was slowly improving. He received little oxygen.
On November 9th, the day when the saint is celebrated, the moment I was returning from church to the hospital, the doctors told me that he would be healthy in ten days. And so it was. One of the doctors, a Jew by origin, asked my husband, pointing to the badge he was wearing on his pajamas: "What is this?" My husband explained to him that he was a great Greek physician named St. Nectarios and that he had restored his health. Then he took out an icon of the saint with bishop's robes, showed it to him, crossed himself in an Orthodox way and kissed him. The Jew, after listening intently, bowed his head and left without saying a word.
My husband did not remember anything, how he got sick, or the hospital. He only remembered the day he started reading the book. He started working on the same job on January 29th.
Please send us an icon from the saint, so that we can put it in the church for kissing. Christians do not know the saint here. On his feast of the Divine Liturgy there were only 5-6 women. I'm sending you 1000 drachmas in Greek money. May the grace of the saint makes us worthy to come faster to worship and fulfill the rest of our promised things.
Mr. P., 16.05.1968, Johannesburg
* * *
The Holy Elder Porphyrios behaved with special love and in a good mood towards cancer patients. With great care he looked closely at individual cases. He tried to help them by making a diagnosis and especially emphasized how serious cancer is in our time. He himself was battling the disease. It was spread inside him, and as he himself said, he managed to calm it down in ten years. He used only the unceasing prayer of Jesus and the study of the Scriptures as a cure.
During a discussion at the Hospital "Singru" with a university professor, Elder Porphyrios said:
"I have also done research on this disease and I have gathered enough evidence for its occurrence. Cancer mainly occurs in confused souls, in people who live under stress and tormented by various things, and in people who suppress themselves. When you suffer from something and find out that it is cancer, you have to surrender with a lot of love to God, to calm down, to love all people and to love everything around you. To be all love and praise to God, so that your soul may be sanctified, to be full of joy, and not to say, "I will die of this disease."
When the soul is sanctified, when it clings to God and becomes calm and meek, all the bodily systems of the organism will calm down; if then the cancer has not healed, then at least it will stay where it is. However, life will end according to God's providence. Examine the Scriptures and you will see that there is no death and that he who believes in the words of God – does not die".
AT THE END
Let's listen to the advice of St. Porphyrios of Kapsokalyvia, and surrender with much love to God. Let's calm down, calm down, love all the people and everything around us. Let us glorify and glorify the Lord, so that our souls may be sanctified, so that it may become calm and meek. Thus it will cling to God and be filled with heavenly joy. If the disease is not cured, then according to the Elder's conviction, at least he will stay where it is.
In those moments, it is best to call an Orthodox priest. Let's talk to him, confess, and partake of the Body and Blood of our Lord Jesus Christ.
With the communion we receive Christ, who suffered for us and died on the cross. But he also rose from the dead three days later to be the firstborn of the dead and to open the Kingdom of Heaven to us.
The Lord Jesus Christ is the Healer of our souls and bodies, so we need to approach Him and His church with faith. Prayer, fasting, reading the Scriptures, and the works of the Holy Fathers, participation in the Sacraments, and Holy Communion are the best remedies.
The wise Solomon says: "The fear of the Lord is the beginning of wisdom, and the knowledge of the holy is understanding; for through wisdom your days will be many, and years will be added to your life. " (Proverbs 9:10-11). That's the secret. As we gain divine wisdom, all things will be blessed by God, everything will be regulated, and we will live in joy and spiritual health.
We should not despair, for death loses its power after Christ's resurrection from the grave. "If we live, we live for the Lord, and if we die, we die for the Lord. So, whether we live or die, we belong to the Lord" (Rom. 14: 8). Death is the bridge that will lead us to Christ.